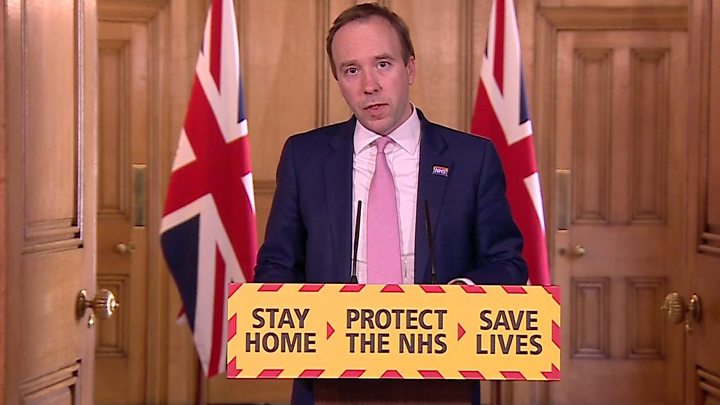 All essential workers in England – and members of their household – are now eligible for coronavirus tests, Health Secretary Matt Hancock has said.
Around 10 million key workers who need to book a test to see whether they have the virus will be able to do so on the government's website from Friday.
At the daily Downing Street briefing, Mr Hancock said the move was "part of getting Britain back on her feet".
He added 18,000 people will be hired to trace contacts of those infected.
The Welsh government had previously announced plans to expand testing to key workers, such as teachers and food delivery drivers, and Northern Ireland's health minister has announced the nation's testing programme is being expanded to include front-line workers in the private sector.
Scotland is prioritising tests for NHS staff and has yet to announce any expansion of testing to key workers.
Addressing the UK government's "challenging" target of 100,000 tests a day by the end of the month, Mr Hancock said capacity for carrying out tests had expanded "ahead of our plans" to more than 50,000 a day.
"Our ultimate goal is that everyone who could benefit from a test gets a test," he said.
The government is also introducing home test kits as well as mobile testing sites, which will be operated with the support of the armed forces, Mr Hancock said.
Key workers who are unable to access the government's website will still be able to apply for a test, as employers are able to book on behalf of their staff from Thursday.
Mr Hancock said those who qualify for testing will be based on an updated list of essential workers and, according to the prime minister's official spokesman, will apply to around 10 million people.
The whole process will be free for those being tested.
Once people have entered their details online they will then be sent a text or email inviting them to book an appointment – with the test results issued by text, and a help desk available to help with any queries, Mr Hancock explained.
The test involves taking a swab from the nose or throat.
Hospitals have been carrying out tests, along with a network of about 30 drive-through centres in car parks, at airports and sports grounds.
But the drive-through centres have not always been in convenient locations, which may have discouraged people from getting tested, BBC health correspondent Nick Triggle said.
Mr Hancock also announced steps that were being taken to help establish a network of contact tracers that will be used when lockdown is lifted, as he said a process of "test, track and trace" would be "vital" to stop a second peak of the virus.
He said infrastructure will be put in place so that contact tracing can be rolled out on a "large scale".
On testing, he added that capacity had reached 51,000 per day, although Thursday's figures showed only 23,560 tests were carried out – which is still far short of the 100,000 daily target.
Figures released by the Department for Health and Social Care on Thursday showed a further 616 people have died with the virus in UK hospitals, bringing the total number of deaths to 18,738.
An analysis of the published figures by the BBC has confirmed that at least 103 health workers have now died with coronavirus, 65 of whom were black, Asian or from a minority ethnic background.
These are big announcements on testing, which will be important in terms of getting out of lockdown.
The 18,000-strong army of contact tracers will be significant.
When contact tracing was done at the start of the outbreak to try to contain coronavirus, it relied on a few hundred staff working for Public Health England's nine regional teams.
When restrictions are eased, infections will rise. The government will need a system of containing any local outbreaks.
These contact tracers will help by identifying close contacts of those infected to keep ahead of the virus by finding cases early.
But the missing piece of the jigsaw is widespread testing for the general public so that the people who are identified can be tested.
By the end of next week the government is aiming to get to 100,000 tests a day.
Achieving that, and perhaps more, will be essential to ensuring there is a robust system in place to allow for a gradual, phased return to some degree of normality.
Also at the briefing, Prof John Newton, co-ordinator of the UK's coronavirus testing programme, said the government was "on track" to reach its target of 100,000 tests a day by the end of April.
He added: "We're going to have 48 of these pop-up facilities which can travel around the country to where they're needed most – for example, in care homes."
Addressing the coronavirus lockdown, the health secretary said the "message remains the same" and the government's tests for lifting restrictions had not yet been met.
He added that the plan set out by Scotland's First Minister Nicola Sturgeon was "very similar" to the government's approach.
Ms Sturgeon has said the lifting of the coronavirus lockdown is likely to be phased in Scotland – with some measures remaining in place into next year, "or beyond".
Mr Hancock said: "We set out the five tests that are needed for us to make changes to the lockdown measures and the Scottish Government's proposals are based on those tests."
He added: "The UK-wide approach is the best way to go."
Speaking at the same Downing Street briefing, UK chief scientific adviser Sir Patrick Vallance said he thought London was ahead of the rest of the country in suppressing the disease, and that in two or three weeks "you might expect to see some differences across the country".
He added that social distancing measures have reduced the rate of infection "dramatically".
In other developments:
---
Are you a key worker who is planning to book a coronavirus test on the UK government website? Share your experiences by emailing haveyoursay@bbc.co.uk.
Please include a contact number if you are willing to speak to a BBC journalist. You can also contact us in the following ways: